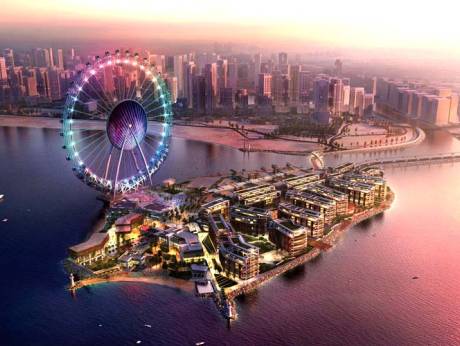 The ferris wheel off the JBR coast.
4 of UAE's biggest projects that will boost consumer spending
Some of these projects are likely to bring more cheer to Dubai shoppers
Dubai: In a country where shopping is a favourite pastime for residents with high disposable incomes, there is no shortage of malls, shopping centres and boutiques.

Every so often, a new development is being announced, be it a mega shopping complex on a man-made island or a series of retail shops to complement another larger-than-life landmark.

Between 2017 and 2020 alone, at least four mega developments that are currently under construction in the UAE are scheduled for completion, and they are expected to deliver more than 3,000 shops.

The developments include malls, as well as leisure and recreation facilities, that cost as much as $1.8 billion (Dh6.6 billion) to build. And all of these projects have one goal in common: to cash in on the spending power of UAE residents and visitors.

In 2016, shopping malls in Dubai, Abu Dhabi and the rest of the emirates, attracted more visitors than ever, with footfall numbers posting a 5.8 per cent increase, thanks mainly to the huge influx of tourists, shopping promotions and events, and a tax-free regime.