Investors cheer as Gulf bourses rebound
Abu Dhabi, Dubai indices trim losses in their worst month since January 2010
jordan release date | adidas Ultra Boost 1.0 DNA ZX 9000 Mint - Grailify

Dubai: Investors, who had been battered by a massive sell-off in January, had a reason to cheer on the last trading day.

Equity markets in the Gulf rebounded, with Dubai stocks leading the regional gains, trimming losses in the worst month since 2010.

The Dubai Financial Market General Index closed 4.92 per cent higher at 2,997.77, closing at the day's high, a level last seen in early January. With Sunday's gains, the Dubai index has trimmed its worst monthly loss of since 2010.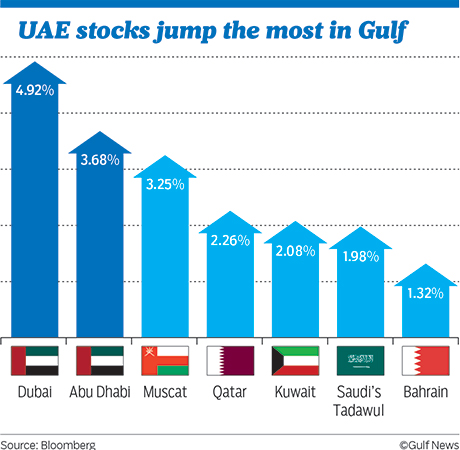 "The market is telling us that the situation this year is not as bad as January 2010, when the Dubai index shed more than 11.8 per cent," said Sanyalaksna Manibhandu, Manager of Research at National Bank of Abu Dhabi Securities. The index had shed 10.1 per cent in January 2009.

In stock specific action, Emaar Properties ended more than 4 per cent higher at Dh5.11, while Arabtec ended nearly 1 per cent higher at Dh1.20. Dubai Investments ended more than 6.5 per cent higher at Dh1.77. Dubai Islamic Bank closed 5.59 per cent higher at Dh6.04. Amlak Finance closed more than 5 per cent higher at Dh1.25. Out of a total of 36 stocks traded on the exchange, shares of 33 firms rose, while remaining 3 fell.

In Abu Dhabi, the general index closed 3.68 per cent higher at 4,054.37, cutting part of the 5.9 per cent losses posted so far in 2016.

Aldar Properties closed more than 4 per cent higher at Dh2.29, while FGB jumped more than 12 per cent to end Dh11.35 ahead of the results, that came in after market hours.

Out of a total of 32 stocks traded on the exchange, shares of 27 firms rose, while shares of another 5 firms fell.

Profit-taking?

However for the rest of the week, some analysts are warning of profit-taking on the Gulf indices. "After today's jump there will be some profit-taking on Monday unless there is no news overnight that is positive," Manibhandu said. "If we look at why major markets on Friday rallied, one [reason] is crude and the other is the Bank of Japan's negative rate stance. But for markets to go up on Monday we need something new as there is no new thing to price in."

But not all agreed. "UAE indices have confirmed a short-to-medium term positive correction, with the DFMGI possibly getting closer to crossing 3,000 amid optimism towards higher dividend payouts," said Talal Touqan, Head of Research and Advisory at Al Ramz Capital.

Investors would eye the earnings and dividend announcements for leads.

Post a raft of mixed results in the last week or so, Abu Dhabi Commercial Bank (ADCB) and First Gulf Bank (FGB) posted better than expected results for the financial year to end December 2015. ADCB posted a 17 per cent rise in net profit last year, and FGB recorded a 6 per cent increase.

Elsewhere in the Gulf, Saudi Arabia's Tadawul index ended 1.98 per cent higher at 5,996.57, while Qatar Exchange index closed 2.26 per cent higher at 9,481.30.
credit to Gulf News