'Mad Max' inspired Last Exit to open in Dubai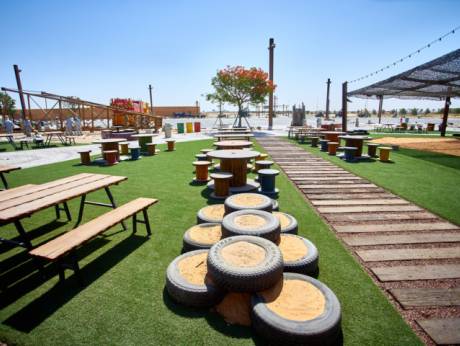 Last Exit Mad X will open on August 10, located on E11
If you can't get enough (like one does) of the post-apocalyptic barren landscape of Mad Max: Fury Road, then here's your chance to accelerate towards Dubai's fourth Last Exit that opens on August 10.

War rigs, monster trucks and abandoned cars will set the scene of utter desolation, creating an ideal backdrop for doomsday trackers to roll out their mats and have a picnic amid this man-made Armageddon called 'Max X'.

Nike Sneakers Store | Air Jordan 1 Retro High OG 'University Blue' — Ietp
If the world has ended, then forget scavenging for food. This is Dubai and we do everything in style, including feasting in a dystopian wasteland with 11 food trucks at our disposal. Developers Meraas call the 500,000 square feet landscape a 'futuristic fantasy world' where customers will come face-to-face with 'menacing vehicles in a surreal environment'.

Mad X is located opposite the original Last Exit on Shaikh Zayed Road, which will be accessible to southbound traffic, operating 24-7. Visitors can chow down on Southern Fried Chicken using makeshift oil drums as tables or simply snack away on a samosa while hanging out next to full-sized cars half submerged in the ground; the latter is meant to 'create an environment that feels as though the world nearly ended'.

Practical design elements, such grass areas for hunkering down to eat, camouflaged netting for shade, and flickering TV screens pointing people in the right direction will also be featured. Most of the materials used have been sourced from recycled wood, scrap metal, pipes and cars, among others.

There are also future plans for creating an indoor dining area, 'with theatrical effects'. Dubai is currently home to three other Last Exits, including one at Al Qudra and another at Al Khawaneej; six others are scheduled to open across planned locations over the next two years.
Staff Report (2017, July 07). 'Mad Max' inspired Last Exit to open in Dubai. Gulf News. Retrieved from http://gulfnews.com/leisure/food/mad-max-inspired-last-exit-to-open-in-dubai-1.2070113