Mohammed Bin Rashid City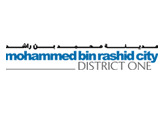 A bespoke freehold community of villas set among a backdrop of parks and crystal lagoons in the heart of Dubai.
Mohammed Bin Rashid City District One is located less than 3km (4 minutes driving distance) from the Burj Khalifa, with the Al Khail Road providing easy access not only to downtown Dubai but also to Dubai International Airport, Dubai World Trade Centre and DIFC. This unrivalled location creates a vast green space at the heart of one of the most exciting cities on the planet today.
Features:
Mohammed Bin Rashid City District One is a new freehold development of 1500 villas across more than 1030 acres making it one of the world's lowest density residential developments. District One offers an exceptionally planned community with parks, lagoons and villas with over 18 floor plans to choose from.
Total Land Area – Over 47 Million Sq. Feet. ( over 1,100 Acres).
Total No of Villas – 1500.
Villa Styles – Modern Arabic, Mediterranean, Contemporary.
Villa Types – 4 to 8 bedrooms.
Crystal Lagoons – 7 kms.
Over 600 Acres of Open Spaces.
Accessibility and advantages:
Attractions – Beaches, Crystal Water Lagoon, Water park, Multisport facilities, Promenades, Retail, Waterfront Dining, Jogging, Cycling and Horse Trails.
short url link | Marki